Nutritional Information for merci products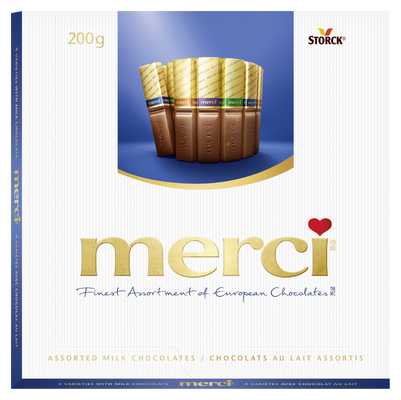 Nutritional information
Nutrition Facts

Per 3 pieces (38 g)

% Daily Value*

Calories
220
Fat
14 g
19 %
Saturated
7 g
36 %
Trans
0.1 g
Carbohydrate
20 g
Fibre
1 g
4 %
Sugars
17 g
17 %
Protein
3 g
Cholesterol
10 mg
Sodium
25 mg
1 %
Potassium
150 mg
3 %
Calcium
75 mg
6 %
Iron
0.5 mg
3 %
*5% or less is a little, 15% or more is a lot
Ingredients: Sugars [sugar, lactose, dextrose (wheat)], Cocoa butter, Whole milk powder, Hazelnuts, Cocoa mass, Modified palm and sheanut oil, Buttermilk powder, Skim milk powder, Butter fat, Chopped almonds, Soy lecithin, Cocoa, Natural flavours and Salt.
Contains: Wheat, Milk, Hazelnuts, Almonds, Soy. May contain: Peanuts, Other tree nuts, Eggs.
Comment
Information about our ingredient and nutritional values are displayed here to reflect our current product formulations. We recommend you to compare this information with the information on the packaging. Any variations will be due to this being a transition period, as a result of new legislation or other changing conditions.
Last change on: November 2021